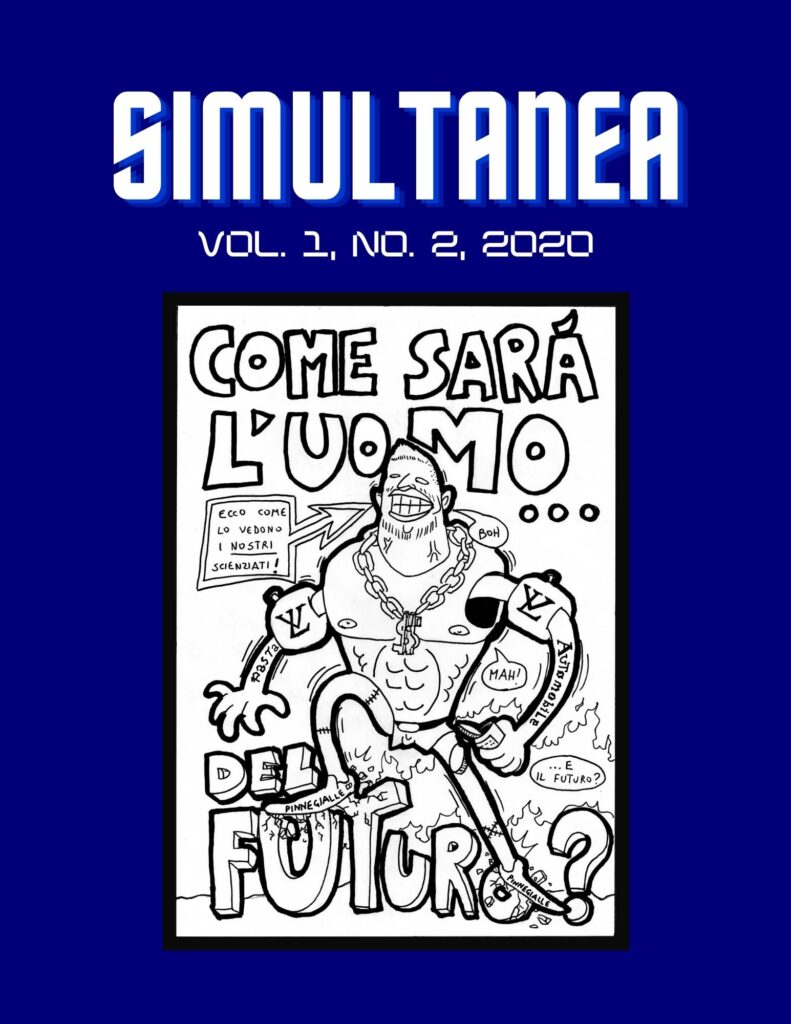 Note - Nota
by Andrea Ciccarelli
Articles - Articoli
Broadcasting the Food Nation: Mario Soldati's Journey in the Po Valley and the Search for Popular Gastronomy
Simona Bondavalli, Vassar College
Pratiche sociali e culturali della critica cinefila italiana. Una casistica
Leonardo Cabrini, Indiana University - Bloomington
Alcuni dati sull'andamento dell'editoria fumettistica in Italia tra graphic novel e fumetto seriale
Sara Dallavalle, The University of Chicago
Dal corteo alla cameretta. Vent'anni di musica indipendente italiana (1999-2019)
Francesco Samarini, Indiana University – Bloomington
---
Reviews - Recensioni
Marina Bettaglio, Nicoletta Mandolini, Silvia Ross, Rappresentare la violenza di genere. Sguardi femministi tra critica, attivismo e scrittura, Milano - Udine, Mimesis, 2018.
(Marianna Orsi, University of Hawaii at Manoa)
The Last Forty Years of Italian Pop Culture. "Andare al Popolo." Edited by Enrico Minardi and Paolo Desogus. Cambridge Scholars Publishing, 2020.
(Francesco Samarini, Indiana University - Bloomington)
Di Paola, Lorenzo. L'inafferrabile medium. Una cartografia delle teorie del fumetto dagli anni Venti a oggi. Alessandro Polidoro Editore, 2019.
(Carlotta Vacchelli, Center for Italian Modern Art - New York)
---
Discussions - Discussioni
Remade in Italy: Italian Tabletop Gaming for the International Market
Marco Arnaudo, Indiana University - Bloomington
"Adrenaline Pulses in the Cables of Reality": A Brief Introduction to Italy's Connettivisti Collective
Arielle Saiber, Bowdoin College
Fumetto italiano di pandemia (parte 1)
Carlotta Vacchelli, Center for Italian Modern Art - New York